Here is a detailed guide on how to accept a connection request from an Onboarding Company as an Individual on the valid8Me mobile app.
Note: If you do not have the valid8Me App you can download it via the App Store or Google Play Store. You can also use the valid8Me Web App login.valid8me.com and select Continue to Customer Portal.
If an Onboarding Company is looking to connect you will receive an email, as seen here: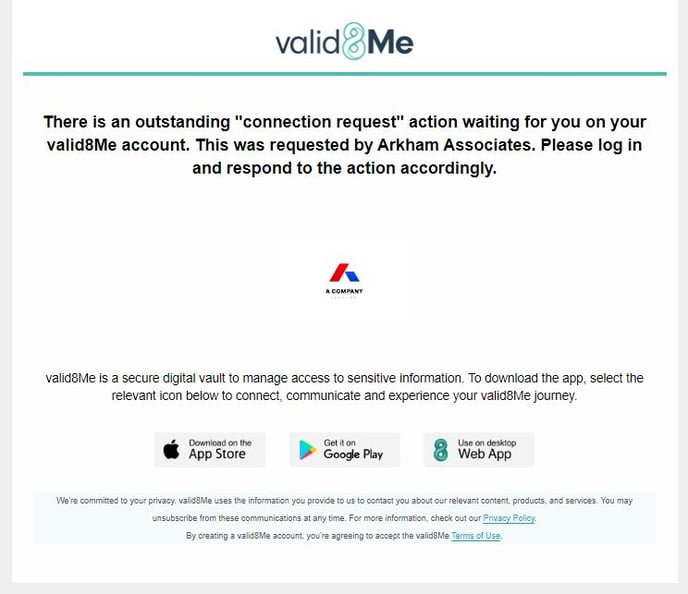 You will also receive a notification within the valid8Me App. You can find this under My Actions on the home page. See below within the red square: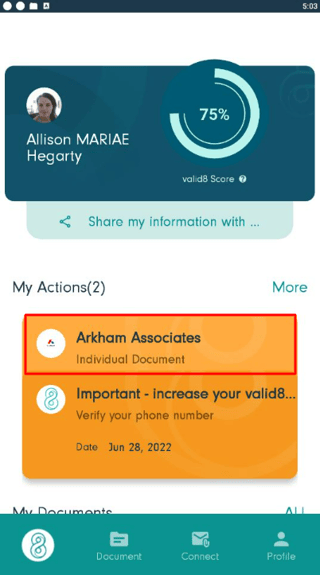 Select the connection request to view which documents the Onboarding Company requested.
Once selected, you will see Completed and Pending next to the requested documents.
Note: Completed meaning the documents have been previously uploaded to valid8Me. Pending meaning the documents need to be uploaded to your valid8Me account so that you can share them with the Onboarding Company.
To upload documents, select the Pending icon.





You will have the option to either Upload/Retrieve the document from your files or Take a Photo of the document.
Note: When adding a Photo ID, you will need to go through the information added from the ID to ensure it is correct. When uploading other documentation, you may need to enter the Date of Issue manually after uploading.
Once you have uploaded all relevant documentation, you will now need to click the Consent icon.
Once you click Consent, a message will appear to ensure that you wish to share your documents with the onboarding company.
Click Yes, I'm sure to share your documents with the onboarding company



Now that your documents have been shared with the onboarding company, you can view the shared documents as well as whom you have shared them with by navigating to My Documents.
See how to Accept a Connection Request in a 2-minute video
Note: If you need any assistance with this process please feel free to contact us on support@valid8me.com