A step by step guide on how to set up a new product or service on your valid8Me portal.
An onboarding company will require documentation from a customer for the use of a product/service.
A connection can only be made between both parties if there is a product/service specified.
To create a new product/service on the valid8me portal, you must select the System tab and then go to Products and Services.
On the Products/Services page, select the Create button on the top right-hand corner.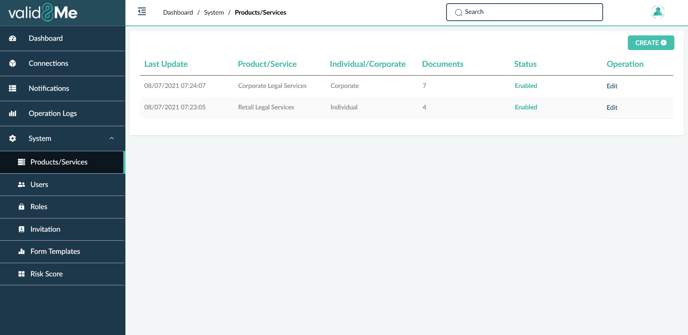 You will then be required to fill in details about the product/service you are creating.
Information regarding the name of the product/service, whether it is for individual or corporate customers, the legal term of the documents required, and the jurisdiction all need to be provided.
There is also an option to leave a note which can be altered after if needed. See here for more information.


After pressing create, the product/service will be available as an option when the onboarding company wishes to connect with a customer.
If you need any assistance with these steps you can email support@valid8me.com.