A step by step guide as to how an onboarding user would create a risk assessment template.
An onboarding user can create a risk assessment form template. This is where the onboarding company will be able to choose what questions are in the risk assessment and which risk score to apply to this form.
To create a form template, select the System tab and then select Form Template.
From here, select the Create button on the top right and the following popup box will appear.

The onboarding user can name the form template and select the product/service that will use this form.
On selecting Create, the onboarding user will now be able to populate the form template with questions.
The creator of the form template can add questions as they please. The form template can have various question types, such as multiple choice, Single choice, free text, Yes/No answers, document uploads, valid8Me user link, Date picker and dropdown field. There are existing predefined dropdown lists that can be used such as list of countries and entity types.
The creator of the template has the option to add more pages and sections to the risk assessment form. These pages will be able to be assigned to individuals or a page owner.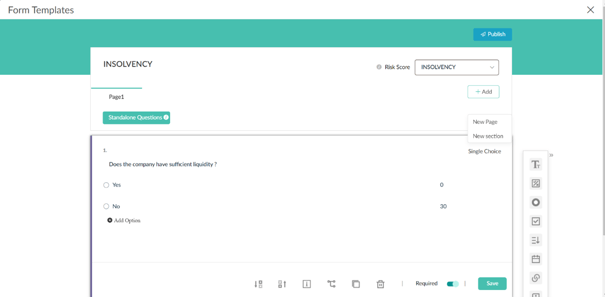 The form template will be kept as a draft until it is complete. The creator of the template should select the Publish button on the top right of the screen to publish the template.
To apply a risk score to a form template, the onboarding user should select which risk score they would like to apply to this form template. This can be done on the top right-hand corner by expanding the dropdown and selecting the applicable risk score.