A step-by-step guide as to how a corporate customer would add an authorised representative to their account
Note: If you are using the Desktop Customer Portal, please click here for the correct tutorial.
A corporate firm may wish to add an authorised representative to their valid8me account.
An onboarding company may require documentation from an authorised representative of a corporate customer when making a connection so that a corporate customer may look to add more authorised reps.
After logging in to the Mobile App, select the Profile Icon at the bottom right-hand corner of the screen.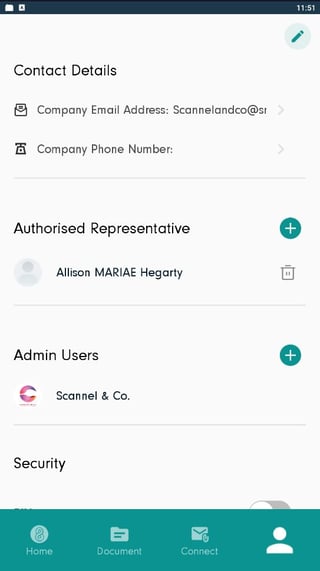 Select the Plus icon next to Authorised Representative to add another rep.
You will then be given the option to invite the new authorised representative to valid8me, via email.
Enter their email address and then select Confirm.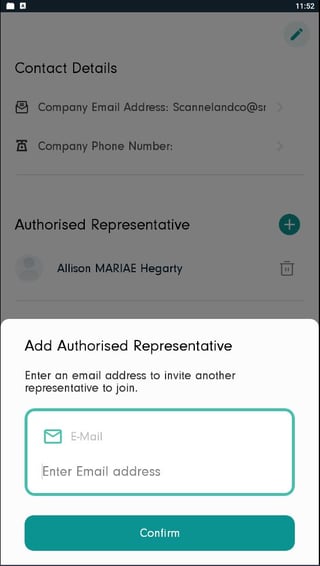 The new potential authorised representative will then receive an email inviting them to become an authorized rep.


A corporate firm may want to add an authorised representative locally if they have the representative's information on file. Follow these steps to add an Authorised Representative Locally.
After logging into the mobile app, select the Documents icon at the bottom of the screen.
From here, select the Upload button and you will be given the option to Upload/Retrieve or Take a Photo.
Here, you can choose to upload a Business or Authorised Representative document. Choose the Authorised Representative option.
You can upload documents to an existing Authorised Representative or create a new Representative. Fill out the form if creating a New Representative and click Confirm.




You will need to choose the type of document you are uploading i.e. Passport, Utility Bill, Payslip.
Once chosen, upload or take a photo of the document and click the Upload button.
Note: If you are uploading a form of ID, there will be an ID verification step to ensure the ID is real and that is has not been tampered with. If you are adding a Bill, you will need to specify the date of the document.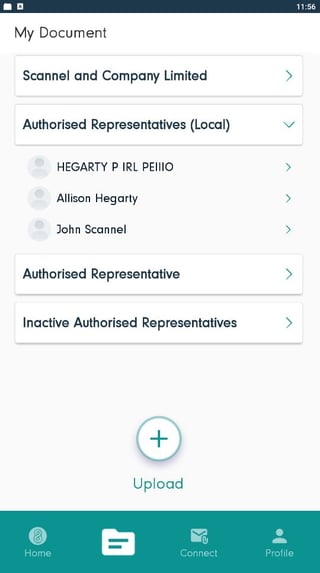 You can now view your Local Authorised Representative and their documents by navigating to Documents - Authorised Representatives (Local).


If you need any assistance with these steps you can email support@valid8me.com.